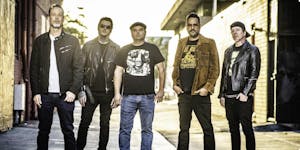 Strung Out
The Casualties, The Scoffs
El Corazon (SEATTLE)
Seattle
,
WA
Take Warning Presents Strung Out LIVE at the El Corazon -- Seattle, WA
Strung Out
American punk rock band from Simi Valley, California, formed in 1991. Their style fuses aspects of melodic skate punk, progressive rock and heavy metal.
The Casualties
New York City based street punk band formed in 1990. Since then the band has released a number of EP's & LP's. Working with a number of label including Tribal War Records, Eyeball Records, and more recently with SideOneDummy Records.
David Rodriguez- vocals
Rick Lopez - bass
Meggers- drums
Jake Kolatis - guitar
http://www.myspace.com/thecasualties
The Scoffs
The Scoffs is Seattle based punk band formed in 2019. The group features (former) members of The Amazombies, Sledgeback and Dragstrip riot. #thescoffs
Venue Information:
El Corazon (SEATTLE)
109 Eastlake Ave. E.
Seattle, WA, 98109